World-class installation and service
PH-EL is an expert electrical installation company and your local authorized electrician. We offer professional help with all electrical assignments – everything from new installations to repair work and maintenance – and we are your dedicated sparring partner throughout the entire process from idea to completed project.
We always take the time to understand your needs before starting an assignment. This ensures the best results.
We offer: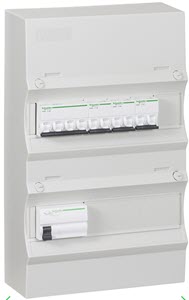 Installation and connectivity of lighting
Lamps, spots and office-lighting
Replacement of meter and group boards
Various finding of errors
Repair
Preventive service
Electrical check
Installation of HPFI
Installation of power outlets and circuit breakers
Kitchen and bathroom renovation
Modernization of housing
Housing organizations/housing companies
Intercom systems
Staircase lighting
Installment and connecting alarms and surveillance
Installation of IHC systems
Installation of ventilation and climate-control/heat-pump
Heat-pump service
Installation of communication solutions
Data- and fiber installation
Construction site installations, including legal inspection
Contact us for more information on what we can do for you. Below you can read more about, who we are, and how we work.
PH-El – an electrical company you can trust
We are a large company with many years of experience and knowhow in the electrical field, which very few in the industry can match. However, we do not rest on our laurels.
We wish to keep on improving and to always deliver the best possible service to our customers. We do this by educating our employees and paying for relevant courses and continuous training. As well as creating a working environment, where asking questions is encouraged and problems are discussed rather than swept under the rug.
This has many advantages. Firstly, it means that we are always up to date with the newest and best available technology in the industry. It ensures, that our strong service- and electrician team, quickly and effectively, can help you with all your assignments, large and small, with the sameness and high quality and professionalism that we always deliver.
Secondly, openness allows for a good working environment in the company. Most team members have had 25-, 35-, and 40th anniversary with us, which says a lot. It means that we are able to retain employees and professional knowhow in the company, as well as having employees who share a vision and are happy with the work they do.
They have PH-EL in their DNA and have a passion for the company, and we believe, that this is the best guarantee for the delivery of quality work.
It also means that we show up to work with a smile. So, don't be alarmed if we show up with a big smile on our face when ringing your doorbell, we aren't crazy, just happy with our work.
Good customer service in focus
We are proud of our good and long-lasting relationships with our customers and we appreciate the well working and established collaboration we have. More than half of our customers are return customers and we aspire to keep it that way.
Service and customer-care are keywords for our organization. The customer must have the best possible experience when choosing us for the assignment. This is why we find it important to listen to the customer, finding the individual need and desire, this way we know what is expected before the work is initiated. This is true whether we are working with private individuals or businesses.
When the task is completed, and the electrician has completed the job, we always make sure to clean up after ourselves. Delivering a service with an eye for detail is an important part of our company vision.