ABDL system (Automatic fire door closing system)
According to the legislation on passive fire protection in buildings, fire doors must be kept closed for safety reasons to delay the spread of fire. This gives more time to evacuate people in the building. However, it is impractical for, for example, hospitals, restaurants and hotels (and many others in business) to keep the doors closed, so they must have an ABDL system installed if they want to keep the doors open.
At PH-EL & Sikring, we have many years of experience in the field and have guided and established these plants with large corporate customers for several decades. We offer highly trained staff at a very fair price, both when talking ad hoc tasks and service (service contracts).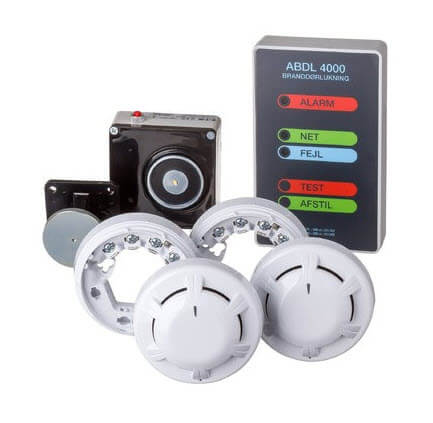 How does an ABDL system work?
An ABDL system has two holding magnets that hold the fire door in the open position, allowing one to walk freely. As soon as a smoke detector identifies a fire, the system is activated, the power to the holding magnets is switched off and the door automatically closes.
An ABDL plant consists of a minimum of:
In central
2 smoke detectors
A door shutter
Holdemagneter
Maintenance of ABDL system:
ABDL systems must be inspected once a year, and in some cases, the Contingency Agency may require an electrical installer to inspect the facility and make a certificate to the Contingency Agency about the state of the facility.

As a licensed electrical installer, as well as a certified ABA (automatic fire alarm system) and ABDL installer, we at PH-EL & Sikring naturally offer annual service contracts, and regular daily service, at very attractive prices. We provide a general maintenance of the system in accordance with current regulations, such as replacement of defective parts and testing of the operation of the system. In addition, we keep a log of all our service tasks and annual services, and we have an FM-TOOL platform where you as a customer have full access to reports, manuals, cable plans, o-plans etc.
Your fire protection in safe hands
At PH-EL & Sikring, we have been in the installer industry since 1959 and have seen and tried most things regarding ABDL and fire protection overall, and we make sure to keep our skilled technicians and consultants up to date with the latest knowledge in the industry. continuing education and training courses.
This ensures that we can provide the most competent service and advice to you based on your unique needs and desires. Contact us today and get a non-committal and free meeting on ABDL.