PH-EL & Fuse since 1957
Pre-fuse
As an electrical installation company, we have chosen to focus on a broad professional knowledge and solid industry knowledge. This makes PH-EL one of Denmark's leading installers in Electricity, Security, Access Control, Camera Monitoring, Tele-data, Fiber, ABA and ABV for companies, municipalities, regions, small businesses and private individuals.
Owner and Director Henning Niemann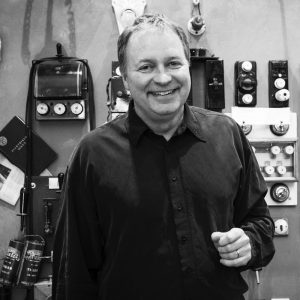 The history of PH-EL began in 1957
There were completely traditional electrical installations when Poul Hansen started PH-EL A / S in 1957. It all grew steadily through the 60's and 70's. In 1981, something happened. The son Per Hansen took over the company. This led to an expansion of the activities to include the full range of installation tasks.
In October 2001, Per Hansen handed over both company and director chair to Henning Niemann. After 20 years in the company, it became him who was to continue and develop PH-El.
A lot has happened since then. The company's activities have now expanded to include main contractors with consultancy, project management and coordination of subcontractors. And not least PH-Security, the large department that deals with, among other things, access control as well as fire and theft protection.
We have undergone a tremendous development, and yet we are the same. Throughout our history there has been an evolution in an upward curve. But basically we are the ones we have always been. A solid and credible partner with the full spectrum of installation tasks, security, consulting and contractor business.
We are also there in 20 years … We are who we are. We just keep up with the times.
Our starting point is always the individual customer's reality. Through a close dialogue, the needs are identified and analyzed. On this basis, we choose with you the solution that best fits the specific task. Our many competences enable us to offer you the necessary flexibility. This means no challenge is too big or too small. Use us if you want qualified solutions in electrical installation, large and small solutions in fire and theft protection, access control, fog protection, fiber and of course, ordinary electrical installations. Or as an everyday problem crusher if you, for example, need to have energy-efficient your company.
Both time and money are saved by using us as a competent partner.