Emergency light
During a fire, a building's normal power supply can put out so the light goes on. It can quickly create a panic situation that compromises the evacuation and creates additional insecurity in a pre-stressed situation. With safety lighting, you avoid the light going on. In the event of a power failure, the safety lighting switches on and guides the persons in the building about the location of the escape routes. This allows you to prevent panic and ensure a quiet and effective evacuation.
At PH-EL & Sikring, we have many years of experience with safety lighting, both as standalone installations and as part of major fire insurance contracting. For decades, we have helped some of the country's largest business companies with consulting, project planning, installation and service regarding safety lighting and fire protection in general.
What is Emergency light?
As mentioned, escape route lighting / panic lighting / safety lighting are lights that are switched on in the event of a power failure to prevent panic and to ensure that it is possible to orient yourself to rapid escape in emergencies. The lighting comes in many different forms at strategic locations, where they come in as much use as possible, for example on escape route luminaires, built-in signs, hand lamps, etc.
The safety lighting must be arranged in accordance with the requirements of the building regulations which state that: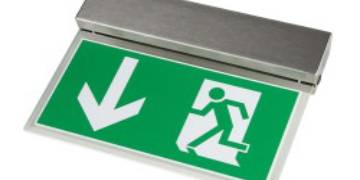 The lighting must be at least 1 lux on floor areas in escape routes.
The lighting must come into operation immediately after a power failure and must be maintained for at least 30 minutes.
Emergency light – rules
At PH-EL & Sikring, we carry out emergency lighting so that the applicable regulations are complied with. As mentioned, we have many years of experience with the security lighting, so when you do business with us, you are sure that the consulting, project planning and installation are done correctly, so that you get the most security for the money.
Escape Lighting installs PH-EL & Fuse including:
Escape route fixtures
Panic Luminaires
Central Plant
Decentralized plant
Mini emergency power system
hand Lamps
Insertion sign
Cooling / freezing compartment facility
In addition to installation and consulting, we offer regular service and maintenance of installations, luminaires, centers, etc. at very attractive prices. A service contract with us guarantees that your safety lighting always complies with applicable legislation in this area. We carry out repairs of existing systems, including replacement of installations, defective fixtures, testing of systems. We document all services and handle governmental procedures.
Gather your entire fire protection business with us
At PH-EL & Sikring we have been in the security business since 1959. This means that we have seen and tried most of the security installations and can offer you attractive prices on all security contracts – large and small.
Book a free meeting with us to talk about safety lighting and fire protection overall.