Fiber Installation
At PH-EL and fuse, we carry out all types of fiber installations
If you want greater speeds than a cat. 6A, one should consider fiber optic, which is a cable that uses a glass core to transmit light.
Fiber cables are used to transmit large amounts of data and are most often used as backbone, ie. as a communication cable between several rack cabinets.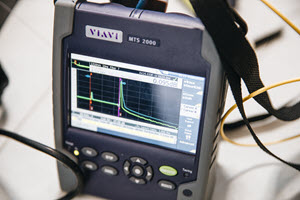 As fiber cables are made of non-conductive material, they do not transmit voltages between the devices, they are therefore suitable in the industry and as insulators for protection against lightning and other surges.
There are two types of fiber cable for data communication: Single mode and Multimode. Both are made of transparent glass. Multimode cable typically achieves distances of up to 2 km, while singlemode offers the greatest distances, up to between 10 and 100 km.
The difference between singlemode and multimode is the thickness of the kernel. It is the thickness of the core that determines whether the cable is a multi or single mode. The core of multimode cables is typically between 50µm and 62.5µm and single mode cables are typically around 9µm. Multimode is designated OM1 at 62.5 / 125 and OM3 or OM4 at 50/125. Singlemode is designated OS1.

Outside of the core is a relatively thick insulating material, called cladding (which can be translated by "cladding"), which acts as a mirror and holds the light inside the core. Outside is the buffer that protects cladding. Then comes a layer of aramid fiber thread that adds additional strength to the cable and ensures flexibility. Finally, one or more sheaths depending on whether the cable is used indoors or outdoors, whether it is used for example. must be protected against rodents or trucks.
50/125 means that the core is 50 µm and the cladding is 125 µm thick. Multimode cable type OM3 and OM4
62.5 / 125 means that the core is 62.5 µm and the cladding is 125 µm thick. Multimode cable type OM1
9/125 means the core is 9µm and the cladding is 125µm thick. Single mode cable type OS1
The outer diameter of the cable itself depends on the application. A patch cable is thinner than an earth cable as the latter is further protected against rodents and moisture
Most common fiber connectors:
LC fiber connector. Ca. 11 mm wide for a duplex connector. Also known as simplex connectors.

SC fiber connector. Similar to LC in structure and often confused with this, but is somewhat larger: Approx. 21 mm wide for a duplex connector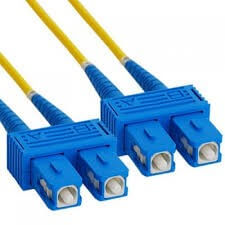 The MTRJ connector. The plug is always duplex and cannot be separated as LC and SC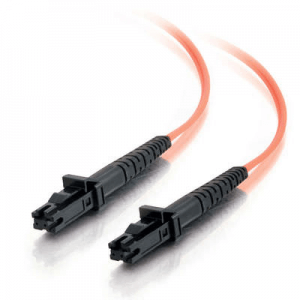 The ST connector is a bayonet type connector.
Single mode fiber cables are available in 3 different polishing qualities and multimode fiber cables in 2 different polishing qualities. The polishing methods are referred to as PC, UPC or APC.
The different polishing methods cannot be seen with the naked eye, so to make it visible, the standard for the PC version is that the cover on the plug is black, for UPC that the cover is blue and for APC that the cover is green. PC is the one with the biggest loss, UPC the one with medium loss and APC the one with the least loss.
Multimode is only available as either PC or UPC, while single mode is available in all 3 versions.

PH EL is a member of the electrical installers organization Tekniq and ISO 9001 certified to handle your fiber installation. It is your guarantee of the highest professional quality – or the money back.
For more than 60 years in the industry, we have built a foundation of values that is based on close customer contact and trust. Among other things. therefore, we have always made a virtue of complying with price and delivery agreements. This applies regardless of the nature of the task. We always meet a task with the same professionalism and with a focus on the detail.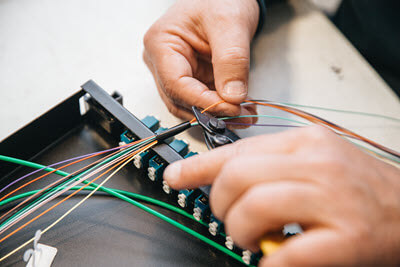 Contact us on tel. 39 16 31 31 or email ph@ph-el.dk to hear more about how we can help you with fiber installation.