Aspirating smoke detector
An aspiration system is a very sensitive fire detector, which is a suitable solution for environments where a quick, precise and sensitive detection of a potential fire is needed. The quick detection gives the ability to prevent the development of a real fire before valuables such as server rooms, machine rooms, archives and storage is damaged.
At PH-EL & Security, we have many years of experience with ASP and we have guided and established ASP for many large companies throughout decades. We have a very competent team of technicians and advisers and we offer project design, installation and service of ASP at very attractive prices.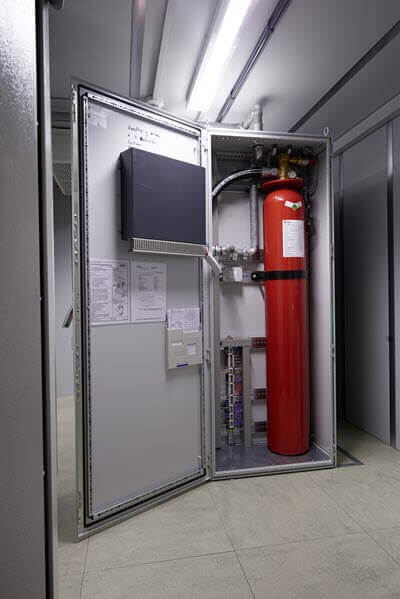 4 good reasons to choose Aspiration system ASP
There are four good reasons to choose an aspiration system:
Faster detection can save valuables and merchandise
An aspiration system is the right solution for rooms where you keep very costly items and therefore want a faster detection than you would be able to get with regular smoke detectors. This could for example be server rooms and motor rooms.
A more discreet and aesthetic solution.
Pipe networks can be installed into the ASP, making it almost invisible, which makes ASP an obvious solution for museums, churches and listed buildings.
Easier maintenance
Aspiration systems are much easier to clean than traditional detectors. Making it a good solution for dusty and dirty surroundings and for rooms with a high ceiling, making it hard to clean traditional detectors.
For example, slaughterhouses, food production halls and straw storage.
Gas detection
Aspiration systems can be given a CO-module, which is installed onto the pipe network. This is a good idea if you have fog canons installed into your alarms system. With gas detection on ASP, you can change the detectors from detecting smoke to detecting gas (CO), which is produces by a fire. This gives a quicker and more correct detection.
This is how the aspiration system works
An ASP system is a detection unit that constantly draws air from the atmosphere through a pipe network. First, the air is filtered for impurities and then the system checks the air for smoke particles with advanced laser technology. The alarm will go off when the system registers smoke, which is often done through different alarm signals that are treated by ABA systems and CTS systems within seconds.
The aspiration systems pipe network makes it possible to have a pipe hanging down towards a particular source that might conclude in a fire, such as a server in a rack system. It is, however, a requirement that the room is connected. The system can be used in connected rooms of up to 600 m2, but can't monitor rooms that are separated with walls without openings.
The system has different alarm levels that can be adjusted as needed. Every alarm level can signal an ABA system and or multiple people – for example by text, mail, on a computer screen or something entirely different such as CTS. It can be connected to ARS-, ABA-, ABV- and AVA systems.
Maintenance of an Aspirating smoke detector
An ASP system has to have a service check-up once per year and it has to have its filter changed as needed. The system needs to be kept clean from dust and dirt regularly because it is a sensitive system and its valuables also need to be checked daily to ensure that everything works.

At PH-EL & Security, we offer yearly service contracts as well as daily service at very attractive prices. We perform general maintenance of the system in accordance with the current rules such as cleaning pipes, exchanging filters and testing the functionality of the system.
We also log all our service assignments and yearly services and we have an FM-TOOL platform, where you as a customer have full access to rapports, manuals, cable plans, o-plans, and so on. This way, there is 100% transparency.
Your fire security in safe hands
At PH-EL & Security, we have decades worth of experience in the business. This means that we have seen and tried most things and been there from the beginning of ASP. We have followed the development and continually keep our technicians up to date on the newest knowledge through education and courses. This ensures that, when doing business with us, you will always get a competent consultant who knows to take a starting point in your needs and wants.
We have know-how and experience at collecting your entire fire security enterprise into one solution. Contact us today for a free consultation about aspiration systems and your possibilities.