Electrical inspection Copenhagen
Get a Professional Electrical inspection in Copenhagen.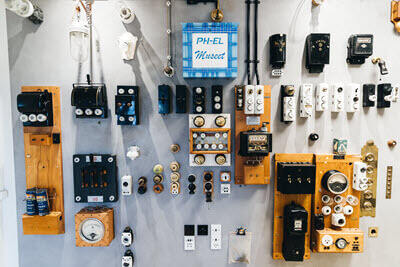 Need an Electrical inspection – Copenhagen? Then you have come to the right place – PH-EL & Sikring is your local electrical installer in Copenhagen. As an owner, it is your own responsibility that all electrical installations in your home comply with the Safety Authority's requirements for electrical safety, and that is, of course, easier said than done. For most, safe electricity in the electrical outlet is a matter of course, but the truth is that electrical installations become worn over the years. In other words, what was safe 15-20 years ago is not necessarily safe today. Every year, outdated electrical installations are therefore responsible for hundreds of fires and severe shocks due to faults and defects.
With a professional electricity check we inspect:
Electric switchboards
breakers
Material behind switches, sockets and lamp outlets
Low-voltage installations, eg built-in spots
Sizing of electrical installation
Protection against live parts
General errors and omissions
---
---
An Electric inspection You Can Trust
The wear and tear of the years affects the safety of the electrical installations. In many homes, electrical installations no longer live up to the rules of the Swedish Safety Agency and are directly illegal. Get a electrical check from PH-EL & Sikring, you get a thorough review of all your electrical installations – from electrical switchboards and circuit breakers to low-voltage installations and much more – by an authorized electrician. The electricity check results in a report where we document the safety of your electrical installations. We thoroughly review the report with you, and we provide a well-crafted and fair offer to restore the security of your electrical installations if one or more is illegal.
Contact us and hear more about El-inspection Copenhagen
At PH-EL & Sikring we guarantee fast and thorough service. We have many years of experience – Contact us for a non-binding offer as soon as possible, as well as hear more about what we can offer you.
The EL check is a mandatory part of the condition report ifm. sale of houses
Most people first get acquainted with an EL check when they buy the dream home. In the old days, the buyer himself had to arrange or order an EL check on purchase, but since 2012 it has been a mandatory part of the condition report. However, it is you who is the seller who is responsible for ordering and getting the electrical inspection done by an authorized electrical installer, not your real estate agent.
However, the 2012 law does not include condominiums and condominiums. Here, as a buyer, you still have the responsibility to order / request an EL check before you buy. However, an EL check is always a good investment, because after acquisitions, there are serious errors in the electrical installations, you are responsible for the cost of the improvements. The expenses can quickly run into thousands of dollars if there are outdated installations and / or dangerous do-it-yourself solutions.
An EL inspection is an investment in security for everyone
In Denmark, you, as a property owner, are responsible for ensuring that all your electrical installations are legal. A great responsibility, since electrical safety is an area that most ordinary people know very little about. Most people take for granted that there is safe power in the outlet, but years of wear and tear can affect the safety of electrical installations. In other words, what was safe 15 years ago can be dangerous today. Furthermore, the errors can be difficult to see, especially for the untrained eye, and they are often detected only when the accident has occurred. Every year, therefore, outdated electrical installations are responsible for thousands of fires and severe shocks in Denmark.
It is not meant to scare you, but to illustrate that the EL check is not simply a bureaucratic invention in the context of property transfer. On the contrary, it is a guarantee of a safe night's sleep and thus a good and cheap security investment for everyone. Also for you who have lived in your apartment or house for many years.
Contact PH-EL & Hedging for a non-binding offer