Heat and smoke vent
Fire and smoke pose a major threat to life and health in the event of a fire. Contrary to popular belief, it is not the fire or heat, but the toxic smoke that is responsible for more than 90% of all deaths related to fire. It is also the development of smoke that causes the greatest material damage and financial loss in connection with fire.
With the right smoke ventilation system, however, you can help prevent the devastating damage and health consequences that fires can cause. At PH-EL & Sikring, we have decades of experience in advising, designing, installing and servicing smoke ventilation systems for both private and business, and offer attractive prices on single installations as well as entire fire and security contracts. We guarantee that you will get the right solution at the right price based on your wishes and needs.
This is how a smoke ventilation system works
A smoke ventilation system is equipped with a motor that is controlled by a control unit with smoke sensor and alarm. Overall, the system ensures that heat and smoke are led away and sent out of the skylight in case of fire. The system is mounted where required, such as in public buildings, residential buildings, stairs, common access roads, hotels, and the like.
The illustration below shows how the smoke ventilation system works.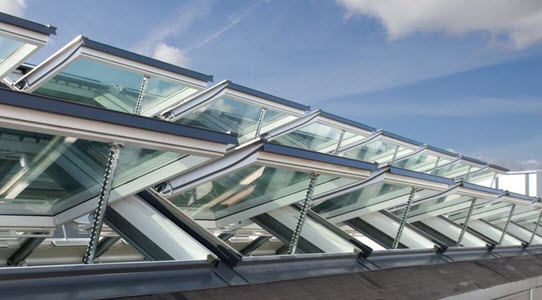 Smoke ventilation service agreement
The service agreement contains the statutory requirements for testing of open and close systems, which are described in "Fire Technical Guide no. 27".
Verification
The agreement includes 1 annual service inspection, testing the following features:
Testing of functions in the control panel including:
Mains
Charging voltage
Battery Monitoring Function
Reset test
Lamp test
Checking the battery condition and any replacement
Testing of cylinders at smoke ventilation hatch
Testing connections and reporting devices, which means:
fire Press
Smoke and heat detector
Any faults and defects found in the plant will be rectified.
Electronic logbook
A logbook/service schedule is established for each facility that is completed by the service engineer after each visit
Replacing defective components
Every 3 years, batteries are replaced, which if possible. had to be part of the plant. Apart from this, only components in the system will be replaced, which are absolutely necessary. Any other inconveniences will only be changed by prior arrangement. Replaced components are billed at the expense, while labor wages are included in the service contract.
Let's gather your fire protection business
At PH-EL & Sikring, we have been in the fire insurance industry since the very beginning and make sure that we keep up to date with the latest knowledge in the industry through continuing education and training. This ensures that we can handle any fire protection venture regardless of size and complexity from A to Z.
Contact us today for a free meeting on how we can help you with your fire protection and safety.