Get a more modern lighting in your home with downlights
Modern lighting has become synonymous with downlights and with good reason. The spots are very popular amongst the Danish people and there are many good reasons for it.
First of all, the lighting from the spots are a very discrete solution. The spots blend in well with the ceiling in a way that makes them less noticeable and they can be installed in many places where it wouldn't be possible to setup another light source. Furthermore, they don't take up as much space as the more traditional lamps which provides a better utilization of space. This makes them the perfect choice for the more modern Scandinavian interior design.

Quality from known brands
With downlights from PH-EL you'll have a wide range of choices from our many suppliers and many opportunities to customize the appearance of your lighting. We have many models with or without peak which makes it possible to find just the right solution for your property. We also have downlights with removeable drivers that can handle being installed directly in the isolation or even combustible material.
In our range of products you'll find a variety of different downlights from known brands such as:
Flash Light
Nordlux
Philips
Daxtor
Hidealite
SG Armaturen
Antidark
GN belysning
Bega
Esylux
Solar
LEDvance
All our models are of the highest quality and is available with or without LED-bulbs, 12V or 230V, fixed or moveable. They are suitable for any installation.
Lighting sources and color temperature
When discussing lighting, you'll often hear the expression lumen, it lets you know how powerful the bulb lights up the room. 230 lumens is equal to a 35 watt halogen bulb or a 3,5 watt LED bulb. The effect is measured in watt and it indicates the bulbs energy consumption. A 5-watt LED bulb can replace a 50 watt incandescent bulb. In other words, it is 10x cheaper to have an LED bulb rather than an incandescent light bulb.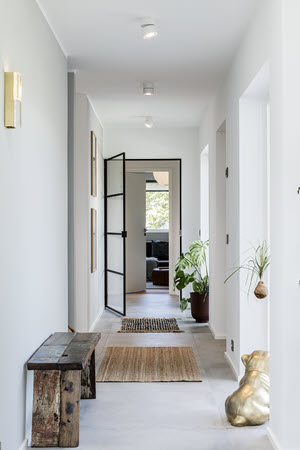 Color temperature is measured in Kelvin. In the living room it is advised to have a lighting of 2700 kelvin and 3000 kelvin is more suitable for spots in the kitchen or bathroom. The more intense color temperature gives the food in the kitchen and makeup in the bathroom a more neutral color.
Color reproduction measure how well a bulb reproduces colors compared to daylighting. A good LED bulb has a color reproduction value of at least 80, while a high-quality LED bulb has a value close to a 100. A higher color reproduction value will also be more costly.
An LED bulb might be marked GU10, this just indicates that it fits in a GU10 socket.
A good working environment has good lighting
At PH-EL and security, we have many years of experience with lighting, which we can use to help you find the correct energy saving solution for you. Whether it is in your private home or in your business and offices, you'll be able to feel the effects of energy saving lighting in both the environment and your economy. Paradoxically enough, the correct lighting is also the most energy efficient lighting and the cheapest in the long run. Because of this, we make it easy to choose environmentally friendly solutions.
In cooperation with you, well make sure that you get the best lighting possible, which matches your wants and needs.
Select the right color for your spots
LED spots in white or doll-white are often the most popular when our customers choose spots. Then comes brushed steel.
It is a good idea to choose a color for your spots which blends in well with the ceiling, this makes the spots look more discreet and elegant. Dull-white is a good color for a ceiling that's painted white and made of wood. Brushed steel on the other hand works well with a treated wooden ceiling.
LED spots in copper or dull-black are unique colors and can seem very dominating and more visible if installed in a white ceiling. If you like unique colors, you can find a solution by combining them with more discreet colors. Black spots can be excellent for breaking a more monotonous ceiling, giving it a fresh and bold expression. At PH-EL and security, we have many years of experience with lighting aesthetics and we are ready to help you.
Well-placed lighting is security against vandalism and break-ins
Good lighting can do so much more than just creating a good working or home environment. Light is also one of the best ways to prevent vandalism and break-ins, it helps keep your neighbors and or staff safe.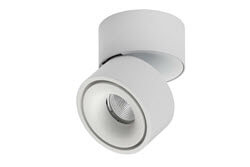 Help and cosulting from PH-EL
At PH-EL we have a lot of experience and knowhow when it comes to lighting. Many of our staff members has celebrated 15-, 25- and 35th anniversary with us and this means that vi know a lot about what is happening in the industry.
In close cooperation with you and taking a starting point in your wants and needs, well make sure to help you meet a brighter future. Contact us for a meeting to get inspiration and together well find the perfect solution for you.