Uninterruptible power supply
Downtime can be expensive and result in lost data and production and many wasted hours. With an Emergency Power system/ UPS solution, you can avoid this and ensure your company sustained production and data uptime.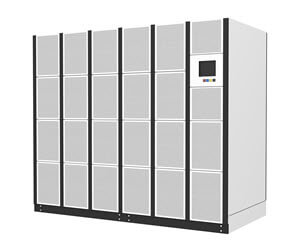 There are several different types of Uninterruptible power supply / UPS solutions, and there is a big difference between what the right solution is for each company. At PH-EL & Sikring, we have many different UPS systems to match every need, and we carry out all types of installations in the field.
Below you can read about 3 different types and get an insight into what we offer:
Online UPS is the best in the market
"Online UPS" is one of the preferred solutions among our customers. The system is typically in a higher price range than our other systems, but in turn has critical equipment that is a must for many companies.
With Online UPS you get:
Stable output voltage independent of the input voltage
No switching time for battery operation in case of mains failure
Good attenuation of mains noise and frequency stabilization
Line Interactive UPS – the golden middle ground
Line Interactive UPS is somewhat cheaper than Online UPS. The system has a close to pure sine output voltage but with limited noise attenuation and voltage stabilization compared to Online UPS. In addition, the system has no frequency stabilization and a longer switching time.
However, it is still at the high end of the quality scale and can adequately meet most business needs.
Offline model for the price conscious
Offline UPS is our cheapest model and it is reflected in the ability of noise cancellation, the quality of the output voltage and the switching time between mains operation and battery.
The offline model is simply not on par with the other two, but is still an excellent choice for securing your data. Like the other two models, it does a battery backup of data in the event of a mains failure, which is the primary purpose of the UPS system.
PH-EL & Hedging provides free advice and sparring about UPS
When you choose to do business with us, you are guaranteed a business partner to help you find the right solution based on your needs.
We know that the best customers are the ones who return – and we are really proud that the vast majority of our customers are. Therefore, you can rest assured that we use our many years of experience and know-how in emergency power systems to guide you to the best solution for you.
Contact us and hear more about what we can offer you and your company.