IHC installations / intelligent home management
For some, an intelligent home is a simple solution with LED bulbs that communicate directly through an app, allowing color and brightness to be regulated with your mobile phone. For others, the entire home must speak together.
Blinds, awnings, lights, heating and air conditioning. Today, everything can be controlled automatically. From you get up to go to bed. When you wake up, the blinds can be rolled up from the bed with a single click on your phone. The radio in the kitchen can be turned on in the same way. The temperature in the bathroom is set so it is heated and ready for you in the morning.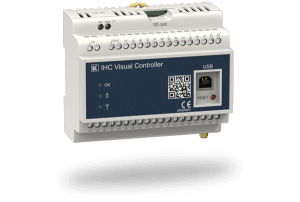 Before leaving home, all electrical appliances are switched off with a single button. The system can also mimic your rhythm, such as turning on and off lights and sounds in different rooms, thus preventing intrusions.
During the day, the awnings are set to automatically adjust to the sun. Heat is switched off when vented. All the light in the home can be set according to mood and activity, and of course it can all be switched off with a click. When you are out, the heat is automatically lowered and when you get home, it is all heated for your arrival. At night, when you sleep, the temperature of the home is automatically lowered.
An intelligent home is a completely individual, intuitive and not least easy solution. The technology is used, among other things, to nudge, that is to push people's behavior in the right direction, for example to save energy.
The electrical installation in the modern home can possibly. is performed with LK IHC®, which stands for Intelligent House Concept. However, IHC requires a special cabling of the house, which makes the systems most suitable for new buildings or total renovations.
However, LK (Lauritz Knudsen) has introduced a wireless variant of their IHC system, which the company calls IHC Wireless.
The great advantage of IHC Wireless is that you do not need wires for printing, they are battery operated, they can be screwed directly to the wall or fixed with double-sided tape, so an existing installation can easily be changed to IHC.
IHC handles the following areas:
Lighting control
Sun protection
Management of various security systems
Thermal Management
Ventilation control
Air conditioning control
Surveillance
Alerting
water management
Energy management and measurement
Control of home appliances, audio / video and much more.
IHC installations are far more flexible than traditional electrical installations, and the system can be continuously adapted to the needs of the family. Among other things. you can get an assault alarm that can be activated from any room, so the light flashes and sets off an alarm with sound. Another option is a smoke detector, which turns on all the light and activates a siren in case of fire.
PH-EL & Sikring has many years of experience in designing IHC solutions. We always work in close dialogue with the customer and the daily users to ensure that all wishes and requirements are met.
Call and arrange a non-binding meeting if you would like to know about IHC Control, IHC networks and IHC Wireless, which offers a wide range of options to provide the family with both security and increased comfort.